Valentine's Day cards being collected for Richland County's foster youth
January 12, 2023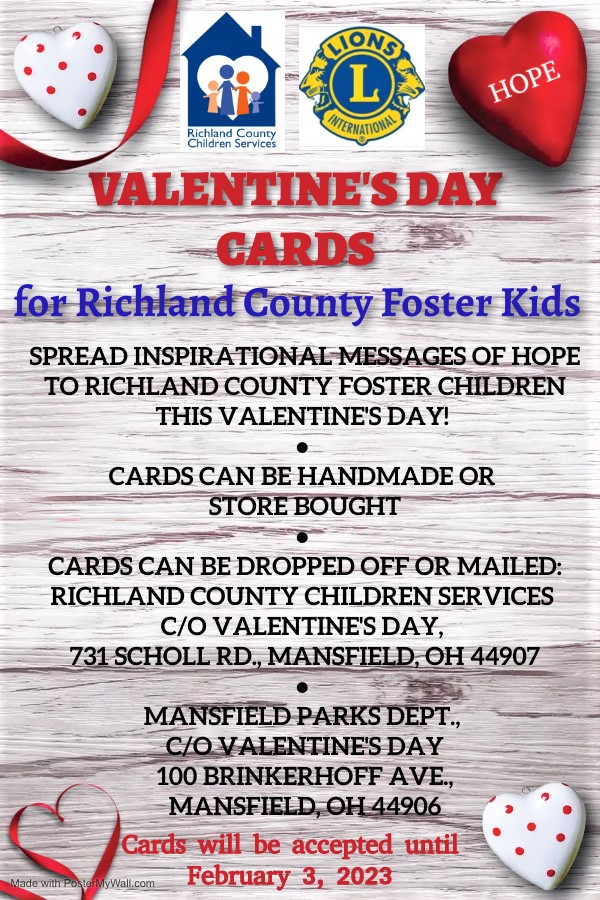 Richland County Children Services (RCCS) and the Lions Clubs of Richland County are showing foster youths love with Valentine's Day cards.
The Lions Club in Richland County including Mansfield United, Madison Township, Shelby United, Bellville, Butler, Butler Lioness, Ontario Lions and RCCS will be collecting Valentine's cards for children in foster care.
Cards can be handmade, or store brought and will be accepted through Feb. 3.
The community is invited to drop off or mail the Valentine's Day cards to Richland County Children Services, 731 Scholl Road, Mansfield, 44907, or the Mansfield Parks & Recreation Department, 100 Brinkerhoff Ave., Mansfield, 44903, c/o Valentine's Day Cards.
For more information about the Valentine cards project contact Brigitte Coles, Community Engagement Specialist at 419-774-4100 or brigitte.coles@jfs.ohio.gov.
« Back to News