Community Events For Kids
Click below to view the following programs:
Mansfield UMADAOP Outreach Center
Renaissance Theatre Performing Arts
Children's Cupboard Outreach, Evolving Through Love (ETL) and The Princess Endowment Project at Hedges Campus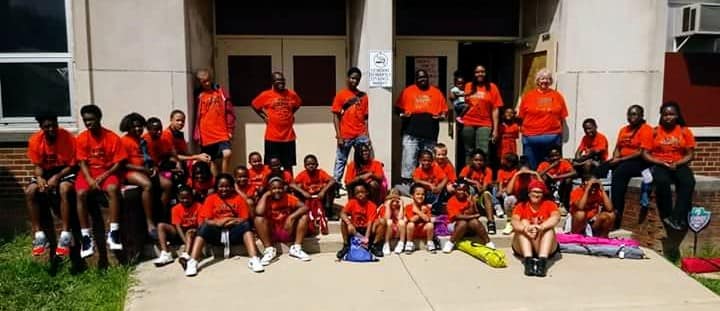 Summer Camp and After-School Program for kids ages 6-13 ages offers the followings: sports clinic, movies, life skills, health wellness, academic assistance, free breakfast and lunch.
Phone: (419) 612-6123
https://www.facebook.com/Childrens-Cupboard-320397524650977/
Culliver Reading Center at Ocie Hill Neighborhood Center
Culliver Reading Center will provide quality services to youth that will empower families to promote the healthy development of their talents, spirits, and intellects. The Culliver Reading Center will assist schools and parents by advocating, teaching, and fostering the love of learning in children in a safe, positive, welcoming and inspirational environment. Youth participate in a wide variety of activities including arts and crafts; computer room; game room; games in gym; and outside playground. Youths also receive a free breakfast and lunch go on free field trips.
Phone: (419) 522-7323
https://www.facebook.com/culliverreads/
Friendly House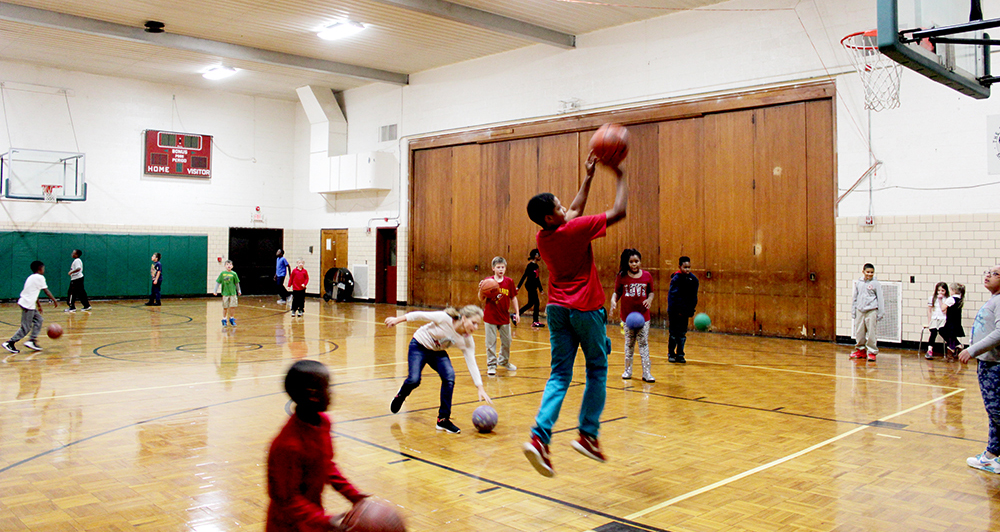 Summer Fun Program June to August
Summer Fun is an all day program at Friendly House for nine weeks during the summer months. Children must register for Summer Fun program and pay the small fee before beginning. Youth participate in a wide variety of activities which include arts & crafts, computer room, games in gym, tutoring, game room, and outside playground.
Phone: (419) 522-0521
http://www.friendlyhouseonline.com/
Kingwood Center Gardens
Phone: (419) 522-0211
Little Buckeye Children's Museum
About Little Buckeye Children's Museum
Phone: (419) 522-2332
https://www.littlebuckeye.org/calendar/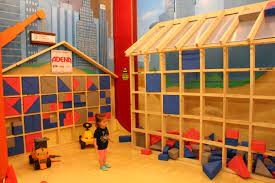 About Little Buckeye Children's Museum
Little Buckeye Children's Museum is a hands-on, play-based children's museum located in Mansfield, OH. With nearly 30 different interactive exhibits, Little Buckeye is an ideal destination for group and family visits by children ages 2-10 years.
Little Buckeye Children's Museum was founded in April 2011 in the heart of Downtown Mansfield. Construction began the previous year and thanks to over 35,000 volunteer hours and donations from the businesses and individuals within our community, we became a reality!
Little Buckeye encourages children to express themselves and to explore the world around them in a safe and developmentally-stimulating environment. The museum features exhibits that support real-life experiences that most children are already familiar with, allowing them to further explore the world around them. Children and families can shop for groceries in the Little Stoodt's Market, go for a check-up at the Doctor's Office, perform on stage at the Little Ren, be a teacher in Schoolhouse and much more!
Love on A Mission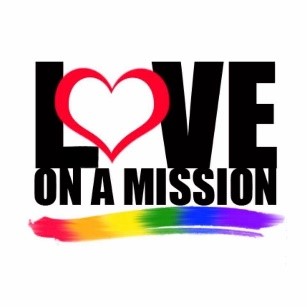 To create a safe place for LGBTQ youth in our community to feel unconditionally loved and accepted for being their authentic selves through support, advocacy & education.
https://www.facebook.com/Love-on-a-Mission-LGBTQ-Youth-924566970960981/?ref=page_internal
Mansfield UMADAOP Outreach Center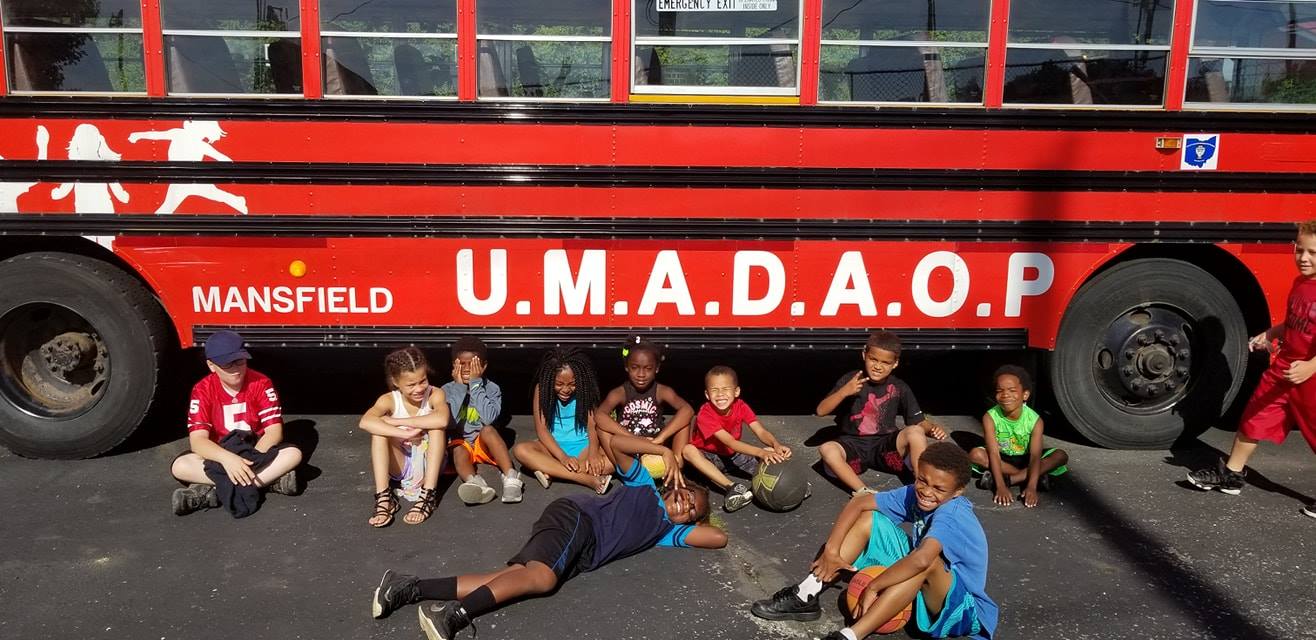 The UMADAOP Community Outreach Center provides early intervention services such as mentoring activities, enrichment programs, anti-bullying prevention, boxing, basketball clinics, Taekwondo, educational support and a Summer Youth Camp.
Phone: (567) 307-7299
https://www.facebook.com/umadaop/
Mansfield YMCA
YOUTH SPORTS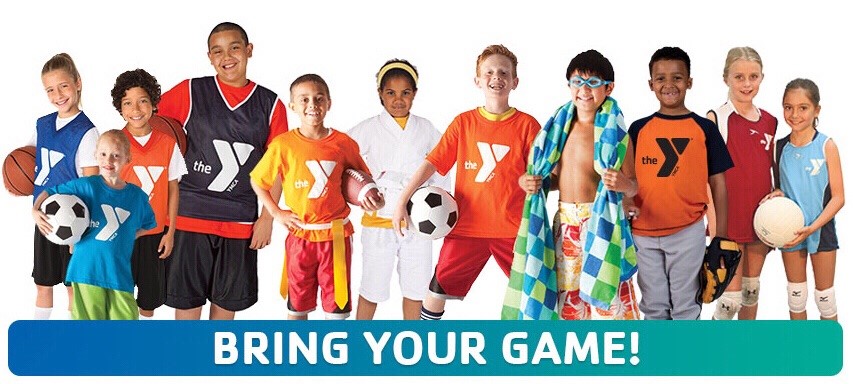 Phone: 419-522-3511
North End Community Improvement Collaborative (NECIC)
https://www.necic-ohio.org/what-we-do/youth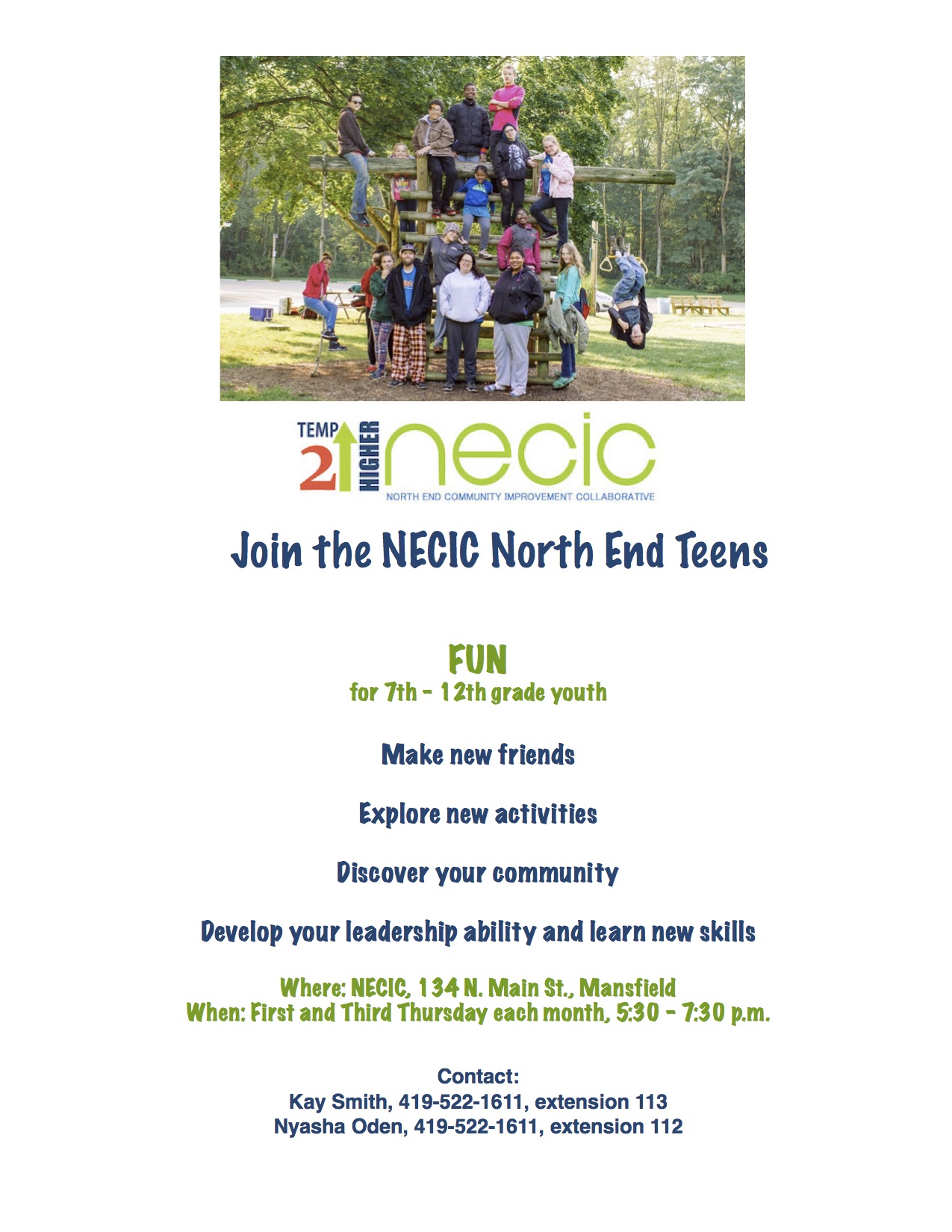 Ocie Hill Neighborhood Center
A city recreation center operated by the City of Mansfield's Parks and Recreation Department. Ocie Hill offers activities including basketball, karate, volleyball, soccer, wrestling and a game room.
Phone (419) 524-2626
https://www.facebook.com/ociehillrec/
Renaissance Performing Arts

EDUCATION
The Renaissance Education Department strives to enhance the vibrancy of our community by providing quality arts experiences that engage and educate across generations.
Phone: 419-522-2726 ext. 212
STUDENT OPPORTUNITIES
CREATIVE WRITING
Do you happen to know a K-12 grade student who loves to write stories? The MindSprouts Creative Writing Contest celebrates the imagination in every student by giving them the chance to see their stories come alive! Ren teaching artist Dauphne Maloney visits classrooms to conduct a jump-start writing session, leaving your student with the tools to submit a fully-developed story, poem, or play to the MindSprouts Writing Competition. Top submissions each year are developed into a script and produced on the Renaissance stage as part of the MindSprouts Showcase, scheduled for May 8, 2019! Teachers can schedule a workshop for their class by calling the Renaissance Education Dept. at 419-522-2726 ext. 212.
MUSICAL ENSEMBLES
The Mansfield Symphony Youth Orchestra is made up of North Central Ohio's finest musicians, primarily in high school from a 12-county region. The MSYO is the only youth orchestra within a 65 mile radius of Mansfield, and represents approximately 80 members each season who perform concerts both onstage at the Renaissance and in the community. For more information on the Youth Orchestra program, please contact Conductor Randy Heidlebaugh at mrhmsyo@mansfieldtickets.com.
Since 1992, the MSO's Youth Strings program has both complemented the musical instruction young people receive in their schools as well as provided a large ensemble experience to students who have no access to a school orchestra program. The Youth Strings is comprised of approximately 50 students, mainly in grades 6 through 10. For more information on the Youth Strings program, visit their website or contact Conductor Matthew Domka at msys.director@gmail.com.
THEATRE ENSEMBLES
Mansfield Youth Theatre (MY Theatre), in collaboration with the Renaissance, is an excellent opportunity for students between the ages of 5 and 18 to gain theatre experience in a nurturing environment, as part of a large production. Led by MY Theatre founder and seasoned Youth Theatre Director Dauphne Maloney, offerings for the 2018-19 season include Disney's Aladdin, Jr. and Once on This Island. The sensory-friendly performance of the show Once on This Island will be Saturday, March 23rd at 1:00 p.m. This performance is aimed toward patrons on the autism spectrum, and those with other special needs. Tickets for this performance are free--but MUST be arranged for in advance through the theatre box office by calling 419-522-2726, Tuesday through Friday, between the hours of noon and 5:00 p.m. For more information email dauphne@mansfieldtickets.com.
Renaissance Youth Opera Theatre (RYOT) embraces a child's curiosity, and gives students in grades 2-12 the chance to explore the world of theatre—whether they are interested in acting, singing, dancing, assisting with lights, helping to create costumes and props, or building the set. Under the direction of Lori Turner, RYOT is an intensive experience in which students work directly with experts to learn choreography, music, acting, and technical aspects of the theatre. Auditions are held in September and February, and 2018-2019 shows include the jazzy Hot Mikado and Gilbert & Sullivan's Thespis. For more information please contact Lori Turner at lori@mansfieldtickets.com."
WORKSHOPS FOR STUDENTS
Improv Underground classes offer high school and middle school students an outlet for their creativity and the opportunity to develop their stage presence. This fun and engaging course teaches quick thinking, builds confidence, and develops communication skills through fun group and individual improvisation exercises. Improv Underground is offered as a six-week after-school course each winter, beginning in February, with a "one night only" performance in April. Stay tuned for 2019 program dates!
In just 5 days, students who attend our Broadway Camp create and perform a mini-musical! Featuring the music of such contemporary musicals as Les Misérables, Wicked, Young Frankenstein, Shrek, and Matilda, students explore the world of musical theatre in a special camp that focuses on the elements of performance through theatre games, improv, and dramatic play as well as staging and the opportunity to sing their hearts out. Broadway Camp is sensory-inclusive, with dates announced in spring 2019.
As a partner of the Girl Scouts of Ohio's Heartland, the Renaissance is proud to offer "Anytime" workshops, which include a specially–designed series of theatre programs that are appropriate for any age. These workshops combine learning, fun activities, and an exclusive backstage tour that will satisfy any theatre buff! Workshops offered include Fairy Princess (Daisies), American Girl (Brownies), Masquerade (Juniors), My Story (Cadettes), All the World's a Stage (Seniors) and Make a Difference (Ambassadors).
SCHOOL & COMMUNITY PROGRAMS
WORKSHOPS FOR SCHOOLS
Ghost Story ELA field trips invite you to be our guests, and allow the historic Renaissance Theatre to become the backdrop for students' imaginations! Using the theme of "Haunting the Ren," students participate in theatre games as well as age-appropriate, customized activities to stimulate creative thinking. A tour of the theatre, complete with a ghost story or two, will culminate with students collaborating to create their own interactive versions of a Renaissance ghost story. Designed to align with the Common Core Standards for English Language Arts, your class will be encouraged to use qualities and details which will enhance any piece of writing.
PERFORMANCES FOR SCHOOLS
Operation Bridge Building is the Mansfield Symphony's major education initiative for schools. This program is designed to both enhance K-5 classroom courses, as well as support music education in our schools. The Operation Bridge Building program engages students and teachers alike by providing high quality symphonic programming and a curriculum that integrates the arts with academics. This program serves nearly 8,000 local students annually through in-school chamber concerts, full-scale symphony concerts at the Renaissance Theatre, and teacher & student study guides.
The Operation Bridge Building program is underwritten so that schools may participate free of charge. Without this support, schools would have to pay upwards of $4 per student to participate in this program. We are grateful for this gift, which represents a combined savings of over $25,000 to our local schools each year! Contact maddie@mansfieldtickets.com to register to attend the symphony concerts or to schedule an in-school performance.
Each year, the Renaissance partners with the Children's Theatre Foundation to host their diverse season of educational theatre offerings to the surrounding school community. Children's Theatre Foundation is a separate non-profit organization whose goal is to provide top quality, live performances to school-age children in the North Central Ohio area. Tickets are available by contacting Julie Sliney at CTFJS17@gmail.com. For more information on the Children's Theatre Foundation, visit www.childrenstheatrefoundation.com.
COMMUNITY PROGRAMS
Teddy Bear Concerts take place on the stage of the Renaissance Theatre with audience members sitting on the stage alongside the performers. Geared to children ages 2 through 10, each Teddy Bear concert offers an interactive element as well as a relaxed environment. Small audience sizes, lights up, and low sound levels as well as safe sensory-spaces allow audience members with autism to be accommodated at this performance. The 2018-19 includes the following shows: Aesop's Fables, The Emperor's New Clothes, and The Science of Sound.
PROFESSIONAL DEVELOPMENT
The Renaissance is a proud member of the Partners in Education program at the John F. Kennedy Center for the Performing Arts. In collaboration with the Mansfield Art Center and Mansfield City Schools, this prestigious program provides high quality professional development to educators. Workshops are open to any area teacher or school administrator, and are a fun, valuable opportunity to gain contact hours towards Continuing Education Credits (CEUs).
2018-2019 PARTNERS IN EDUCATION WORKSHOPS:
Thanks to the generosity of our sponsors, registration fees has been waived for all participants in the Partners in Education program. Thank you to the Ohio Arts Council, the Key Bank Foundation, and Charles P. Hahn, CFP for making this possible!
Building Reading Comprehension Through Sound and Rhythm, October 22, 2018 from 4:30 pm-7:30 pm
Presented by Teaching Artist Imani Gonzalez
This workshop is based on the belief that poetry, in addition to being written and read, should be performed. Teachers learn ways to help students use brainstorming, imagery, and layering to write powerful and effective poems. Clear and easy poetic structures and formats empower students to expand their imaginations and to cross creative boundaries. This workshop is most valuable for teachers of grades 1-5. Register now!

Super Powered Stories: Character and Story Creation For Students With Disabilities, January 29, 2019 from 4:30 pm-7:30 pm
Presented by Teaching Artist Richard Jenkins


Today's classrooms include an ever-growing number of students with disabilities. The popular art form of cartooning provides an exciting tool to reach all students and to build their expressive and cognitive capacities while unlocking their story-making potential. By combining simple lines, shapes, and patterns, participants learn how to teach students to draw their own super heroes and super villains, and to add story elements to help them create their own Super Powered Stories. This hands-on workshop explores multiple options and entry points for students with learning, cognitive, and emotional disabilities. No previous drawing experience required! This workshop is most valuable for teachers of grades 3-6. Register now!

Teaching Literacy Strategies Through Visual Art, March 7, 2019 from 4:30 pm-7:30 pm
Presented by Teaching Artist Sandi Hammonds
How can students gain skills in questioning and making inferences from a text? In this workshop, the "text" is a work of visual art. Beginning with a visual image allows students to learn the skills that they will apply later to more abstract texts (language). In this workshop, teachers examine techniques for helping students develop their questioning strategies — posing relevant questions to gather information and progressing to more in-depth inquiry about the artwork. Teachers will be able to help students engage in higher levels of thinking as they guide them in examining unfamiliar objects and making inferences about the people and the culture that produced them. This workshop is most valuable for teachers of grades 5-12. Register now!
These workshops were developed in association with the John F. Kennedy Center for the Performing Arts and is partially underwritten by the U.S. Department of Education and the National Committee for the Performing Arts.
https://mansfieldtickets.com/tickets-events/event-schedule