iHeartRADIO 3rd Annual Homeless Campaign Kicks Off November 1
October 29, 2021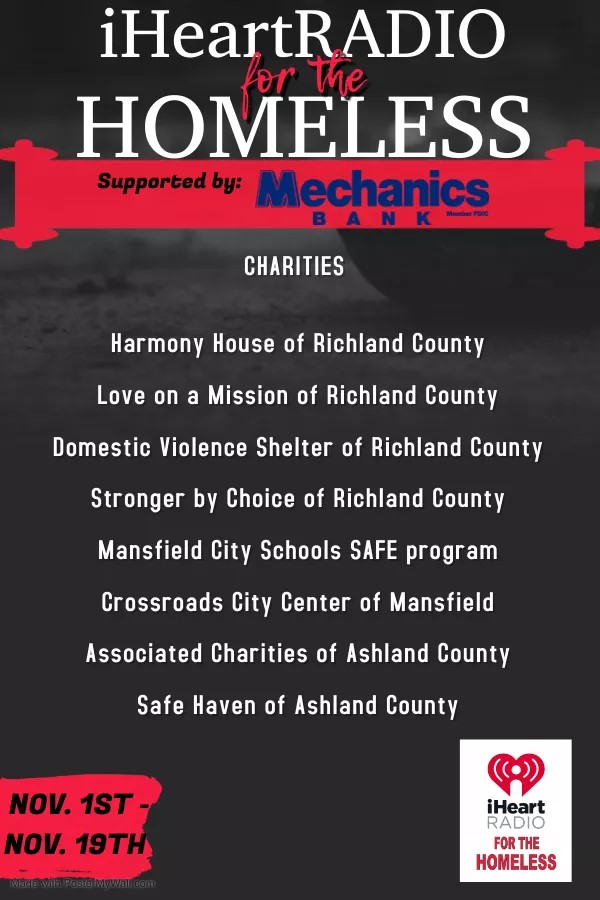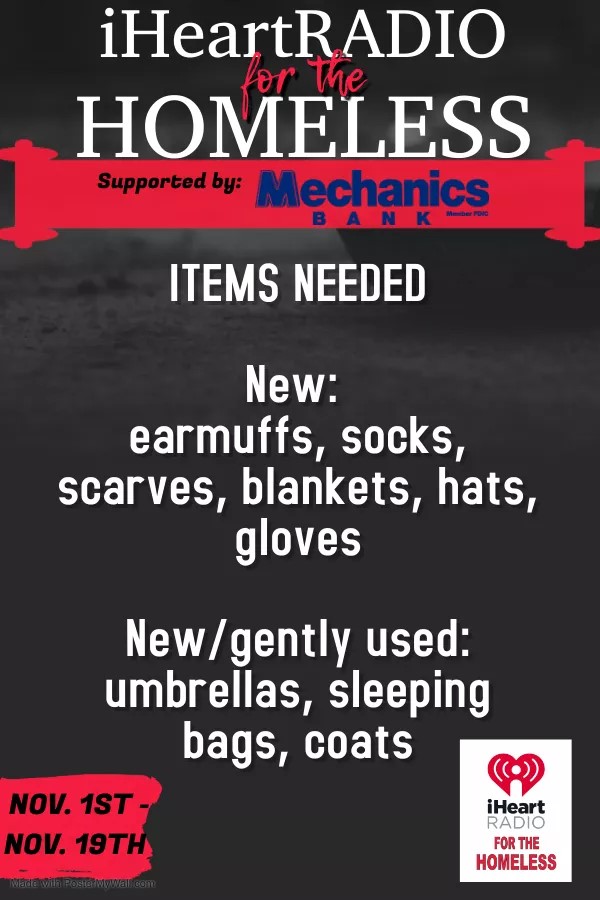 For the third year in a row iHeartMedia Ashland/Mansfield radio stations (WNCO-FM, WXXF-FM, WMAN-AM, WYHT-FM, WFXN-FM, WNCO-AM and WSWR-FM) in partnership with Mechanics Bank, have launched a campaign to help our communities homeless population. Starting Monday, November 1st – November 19th, listeners in Mid-Ohio will be able to donate much needed items at various drop-off locations throughout Richland and Ashland counties.
Richland County Children Services (RCCS) is participating again in this year's campaign. This year the need is greater as there are many more homeless individuals and families due to the pandemic.
iHeartRADIO for the Homeless will be collecting the following:
NEW:
socks, earmuffs, scarves, blankets, hats, gloves
New/Gently Used:
umbrellas, used sleeping bags and coats.
Donation recipients:
Harmony House of Richland County
Mansfield City Schools SAFE program
Love on a Mission of Richland County
Domestic Violence Shelter Richland County
Associated Charities of Ashland County
Safe Haven of Ashland County
Stronger by Choice of Richland County
Donation locations:
Richland County Children Services, 731 Scholl Road
All 9 Mechanic Bank locations in Richland County
Bill Harris Chevrolet, 2245 Claremont Ave. Ashland
Ashland Family YMCA, 207 Miller St.
Mansfield Area YMCA, 750 Scholl Rd.
Park National Bank, 797 Ashland Rd.
Area Agency on Aging, 2131 Park Ave. West
Richland Mall, 2209 Richland Mall
Elzy Milling & Trade, 25 E. Ogle Street. Bellville
Third Street Family Health Services, 600 W. 3rd Street
« Back to News