Hands that Never Get Tired, Continues to Sew Blankets for Foster Children
October 29, 2021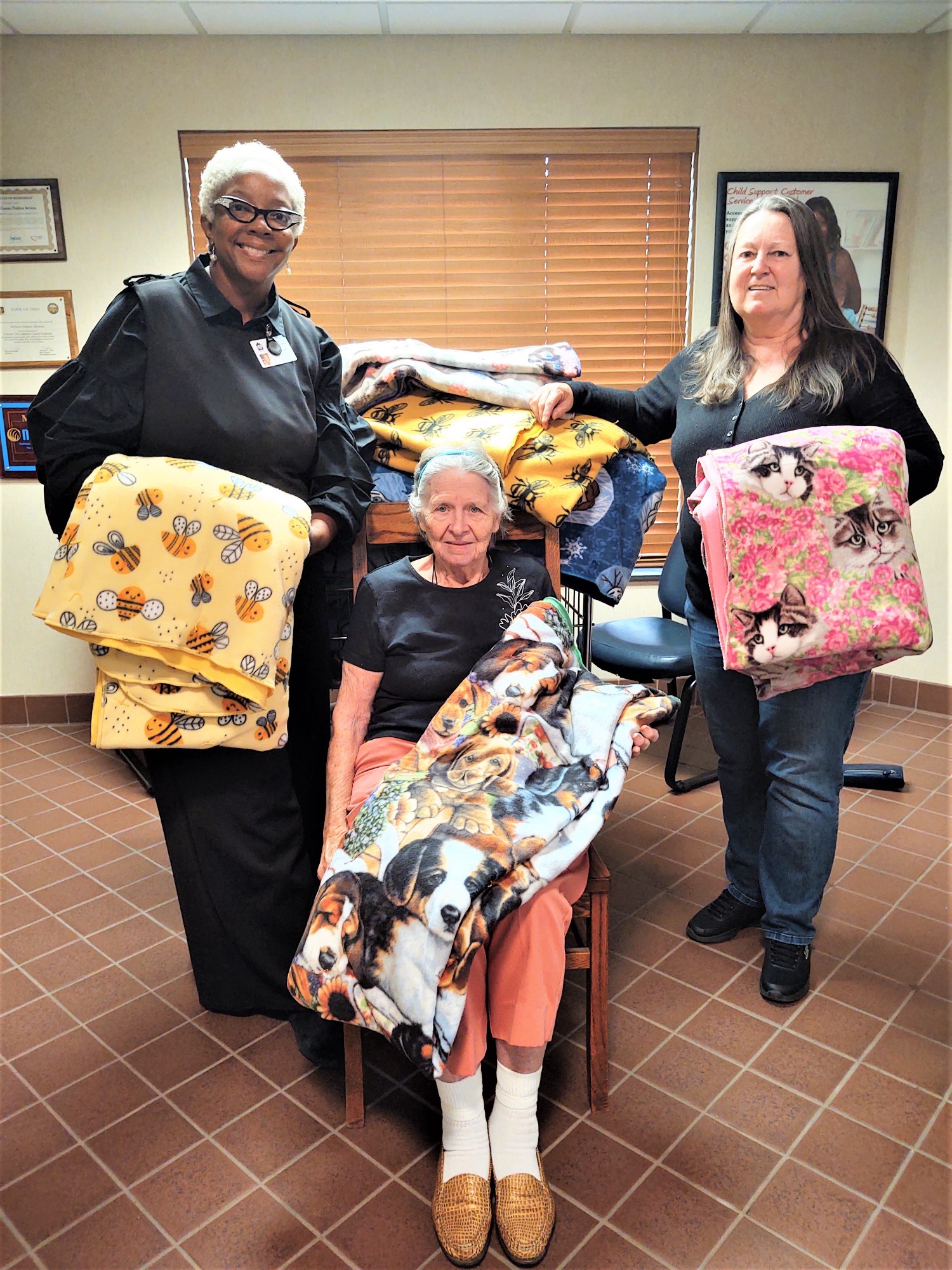 Right to left: Joetta McCruter—Polk, Foster Care Recruitment, Mrs. Faye Winebrenner and Kenda Rice.
By: Joetta McCruter -Polk, RCCS Foster Care Recruiter
Mansfield - National recording artist, Bill Withers, wrote and performed the song entitled, "Grandma's Hands," which implies that the hands of a grandmother never gets tired of finding something to do in order to help their children, grandchildren and others in the community.
This song rings loud and clear, especially for one 84 year old widow, mother, grandmother and community advocate Mrs. Faye Winebrenner of Mansfield along with her daughter, Kendra Rice, her caregiver who is by her side.
More than 30 beautiful fleece soft blankets were delivered this week to the care of Richland County Children Services for case workers to deliver to children in foster care and those in need.
According to Kendra, her Aunt Faye, may not be able to remember certain things but she has never forgotten how to sew and make these beautiful blankets for kids.
"She has been making these fleece blankets for the past couple of years and with in that time period has given away 2,000 blankets," said Rice.
Mrs. Winebrenner was determined to make the soft and cuddly blankets even though the serger and her regular sewing machine broke, with a replacement cost of $2,000. "We are now out of funds and material to make the blankets but she wanted to make sure the children in Foster Care had a blanket before the weather changed," said Rice.
Facing the challenge of not having what she needs to make the blankets, Ms. Rice wants to encourage anyone who is interested in helping with this effort to donate material, and thread.
They have a GoFund Me account at Mechanics Bank in Lexington under Kendra Rice. You can also send your financial support to Attn: Ms. Kendra Rice 1318 Vanderbilt Rd. Mansfield, Ohio 44904.
According to Ms. Rice, it takes two yards for the front and two yards for the backing of each blanket.
For more information about the blankets, log on Richland County Children Services Facebook page for the full interview with Ms. Winebrenner and Kendra.
« Back to News