Child abuse month prevention month proclaimed during April
April 2, 2021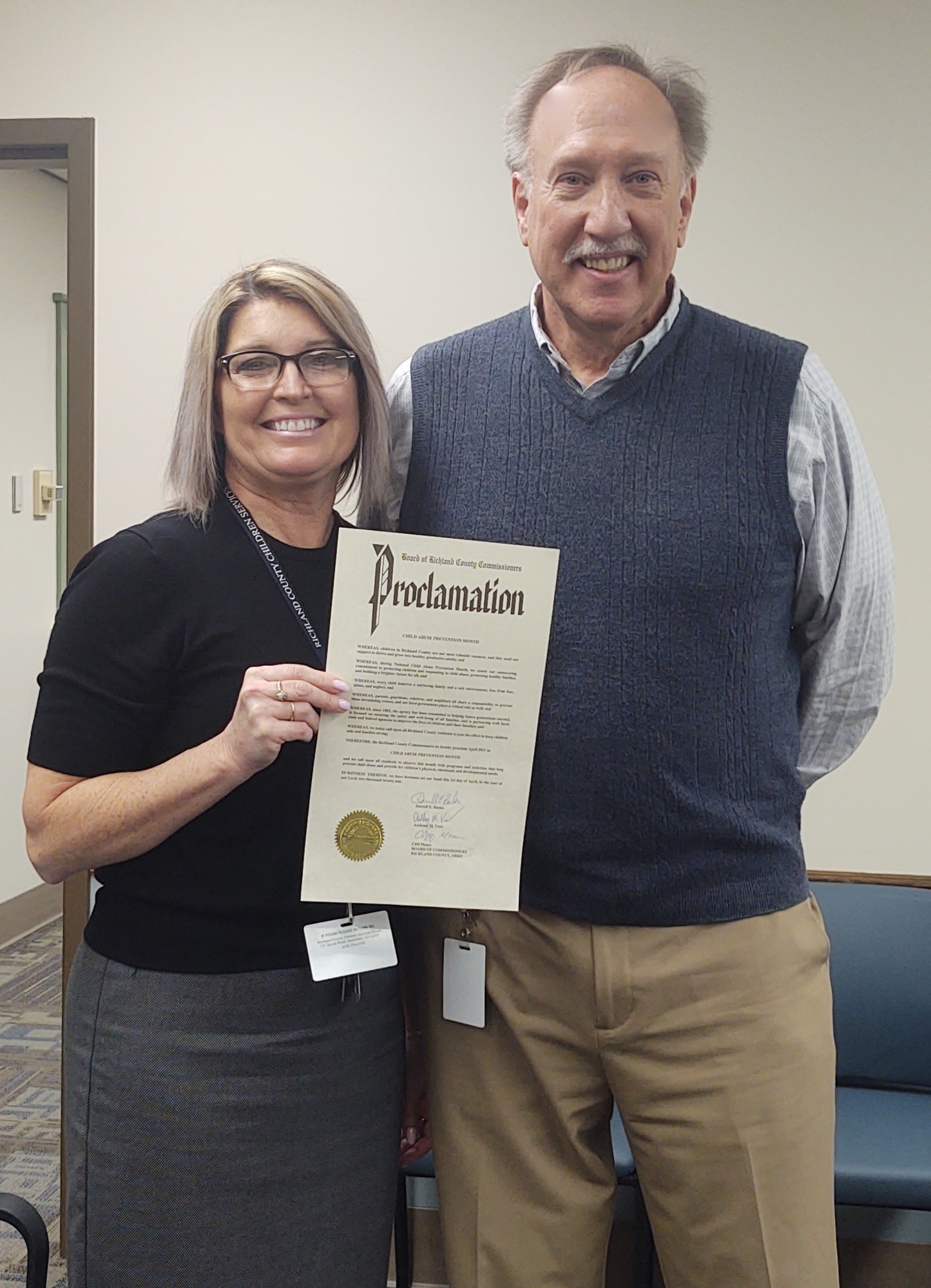 RCCS Executive Director Nikki Harless receives proclamation from Commissioner Cliff Mears.
Richland County Children Services (RCCS) kicked off Child Abuse Prevention Month Thursday, April 1st, with a proclamation from the Richland County Commissioners.
The proclamation read during a meeting by Commissioner Cliff Mears, who said he was impressed during a recent visit to the Scholl Road agency, was also signed by Commissioners Darrell Banks and Tony Vero designating April as Child Abuse Prevention Month in the county.
This year Richland County Children Services (RCCS) theme is "Staying Safe Together." The most important thing we can do to help children thrive is to support families before they reach a crisis.
Harless said the agency investigated 1,207 cases of alleged child abuse and neglect in 2020. That number is down slightly from 1,260 in 2019, largely due to schools around the county going "remote" for long periods of time due to the pandemic.
She said schools received 119 calls from schools in 2020, compared to 218 in 2019. She said calls from schools began to rise later during 2020 as schools again returned to more in-person classes.
Harless said the agency also helped 24 children become successfully adopted during 2020.
During the month of April and throughout the year, communities are encouraged to increase awareness about child and family well-being, and work together to implement effective strategies that support families and prevent child abuse and neglect.
RCCS presented the Commissioners gift bags containing facemasks and a glass with the Agency's logo, a Pinwheels for Prevention lapel pin, Wear Blue to Work pin and a blue wrist band with the empowering message "I Am Powerful." They also received a dozen Blue Ribbon sugar cookies.
RCCS is marking National Child Abuse Prevention Month with a display and several activities.
Pinwheels for Prevention Display Pinwheels will be on display in the front lawn of the Richland County Court House for Child Abuse Prevention Month. The Pinwheels represent every report of abuse or neglect received by the Agency in 2020.
April activities include:
The 8th Annual Calendar Picture Contest for third grade students throughout Richland County.
Wear Blue Day, Wednesday, April 14th - On this day local businesses, offices, schools, agencies, factories, retail outlets and media partners are asked to Wear Blue to show unity against child abuse and neglect. Participants pictures of themselves, their group, classmates or co-workers wearing blue will be posted on the agency's website and Facebook pages.
Free Parenting Workshop presented by Carlos Christian, Facilitator/CEO of the Starts Within Organization, Saturday, April 3, 10, 17 and 24, from noon to 2 p.m. Fathers and mothers will get help with parenting skills and co-parenting strategies. For more information contact Program Case Manager Angel Singleton at 419-610-6915 or aross.startswithin@gmail.com.
If you suspect abuse or neglect, please don't hesitate to Richland County Children Services. All calls are confidential. Your efforts can improve the life and wellbeing of a child. To report suspected abuse or neglect, please call us 24-hours-a-day, seven days a week at 419-774-4100.
« Back to News