Christmas at Kingwood opens Nov. 30
November 22, 2019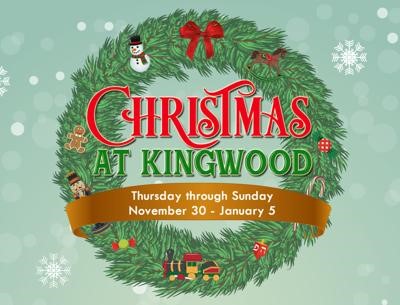 Richland Source
MANSFIELD – Kingwood Center Gardens has announce the return of Christmas at Kingwood, an indoor and outdoor holiday experience.
Each night, visitors will enjoy Kingwood Hall decked for the holidays in the theme, "Christmas Classics," the Tree Walk featuring trees and wreaths by local businesses, a special Greenhouse display, and the incredible outdoor Trail of Lights. Throughout Christmas at Kingwood, holiday-themed workshops, live music, and special events will all be featured.
Opening day is Saturday, Nov. 30, with an opportunity to give back to the community with Stuff the Sleigh. Help Stuff the Sleigh by bringing a new, unwrapped toy to donate to Children Services, the Domestic Violence Shelter, and The Salvation Army, for area children and receive one free admission on Nov. 30.
Mid-Ohio Youth Jazz Orchestra presents "A Big Band Christmas" on Nov. 30 with performances at 7 p.m. and 8 p.m.
Thursday, Dec. 5 will have a special performance of "A Christmas Carol," presented by The Hampstead Stage Company. December 7 and 8 is the Christmas Market where local vendors will offer artisan items and gifts for the holidays.
December 12 through 15 includes a visit from the Ashland Model Railroaders & Railfans for a Christmas Model Train show. Santa and Mrs. Claus will visit Kingwood on Dec. 22 from 6 to 8 p.m. On Dec. 28, Mid-Ohio Opera will perform a special holiday performance in the Carriage House from 7 to 9 p.m.
This year, we are adding an additional weekend to continue the fun, including a visit from Buddy the Elf and Santa's reindeer on January 4th. For a full list of special events, workshops, and live music, please visit www.kingwoodcenter.org.
Christmas at Kingwood begins Saturday, November 30th, and will continue Thursday through Sunday from 4 to 9 p.m, through Jan. 5. Admission is $5 per person and free for Kingwood Members and Children 12 and under. Enter through the Trimble Road gate, with parking in the new Trimble Road lot.
Christmas at Kingwood is brought to you by ReVision LASIK and Cataract Surgery, RFME Insurance, Richland Bank, Staffing Partners, Baker's Collision Repair, Spitzer Motors, Mid-State Multimedia Group, Parr Insurance, and Sunbelt Rentals.
« Back to News