Richland County Children Services celebrates community partners assisting children in foster/kinship care
May 21, 2019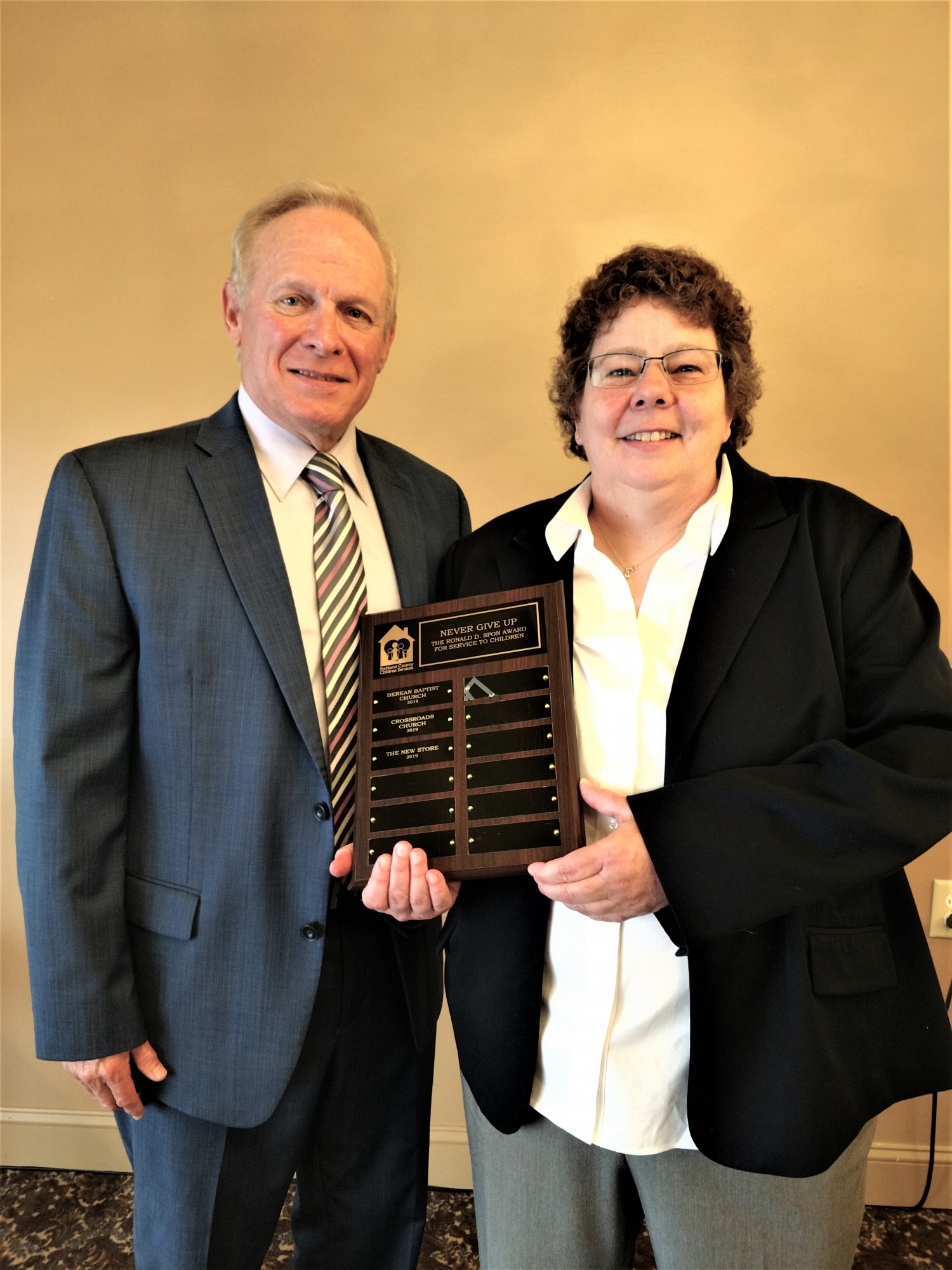 Judge Ron Spon and Richland County Children Services Executive Director Patty Harrelson
Mansfield, Oh - Richland County Children Services recognized several community partners for their commitment to creating positive change in the lives of youths in foster care and kinship care. May is National Foster Care Month and in honor of this occasion, Richland County Children Services (RCCS) hosted a luncheon to celebrate all of the wonderful ways that community entities assist our children in foster/kinship care and their families. The luncheon was held Tuesday, May 21, at Dan Lew Exchange, 28 N. Main St.
Foster parents, family members, volunteers, mentors, policymakers, child welfare professionals, and other members of the community gathered to honor entities who have given a voice to children in foster care and kinship care.
The honorees were:
Retired Judge Ron Spon
The New Store
Crossroads Community Church
Berean Baptist Church
RCCS Executive Director Patty Harrelson announced that the new award would be named after retired Juvenile Court Judge Ron Spon in order to honor his legacy. Honorees were presented with statues engraved with the saying: "Never Give Up! The Ronald D. Spon Award for Service to Children."
"This award shall be given when the Board of Children Services and its staff determines there is an entity or a person in the community that has gone above and beyond in providing services to children in Richland County," Harrelson said.
"Like the Court's 'Love Never Fails Award,' it shall not be given annually, and this plaque shall be displayed in the lobby of Children Services with the names of the honorees," Harrelson said.
The New Store, Crossroads Community Church and Berean Baptist Church are all listed on the plaque as the three initial recipients.
Judge Spon presented the awards and spoke about 'Our Community, Our Children.' Spon talked about the need for finding foster homes for teenagers.
"Challenge your community to contribute and take in a teenager. Children need a place that can give them hope, help, care and love," Spon said.
According to the Ohio Foster Care and Adoption website, on any given day in Ohio, nearly 16,000 children are being cared for away from their parents. More than 9,200 of them are living with foster parents. The rest of them are in residential care or living with friends or relatives, who are sometimes referred to as kinship caregivers.
Foster care is meant to be temporary, but its impact can last a lifetime. Ohio has more than 6,000 foster parents who open their hearts and homes to children during a very difficult time. When families can't address the concerns that made the placement necessary, then the agency and court look for permanent options, such as adoption or giving custody to a kinship caregiver.
Many times, the foster parents who have been caring for children in those situations will decide to adopt them. When this doesn't happen, other adoptive families are needed.
Because of this and the impact of the ongoing opioid epidemic, we are in constant need of new foster and adoptive parents.
More than 2,600 children in Ohio are waiting to be adopted. More than 1,000 of them are teenagers. Many of them are part of a sibling group. Every effort is made to keep siblings together because every sibling group deserves the chance to grow up together.
In a quest to meet the demand for foster parents, Richland County Children Services (RCCS), has a new recruitment postcard.
The card provides information about foster care requirements and foster care rates. The postcard will be distributed at various community events.
Child welfare agencies are also looking at new ways to recruit through social media. RCCS continues to lead the state in Foster Care recruitment with the software program, Binti.
Through Binti, the agency has a public recruiting website to let potential families learn about foster care and adoption. Binti offers a mobile-optimized application portal to complete and sign required paperwork. This process can be completed anywhere from any device.
Once the application is submitted, caseworkers use a private dashboard to track the application and complete background checks. The goal of Binti is to increase the number of licensed foster homes within the Richland County area, in addition to making the application process easier for potential parents.
About Foster Care:
There are nearly 443,000 children in foster care in the United States. In 2017, more than 690,000 children spent time in U.S. foster care. On average, children remain in state care for nearly two years and six percent of children in foster care have languished there for five or more years. Despite the common perception that the majority of children in foster care are very young, the average age of kids entering care is 8. In 2017, one third of children entering U.S. foster care were young people of color. While most children in foster care live in family settings, a substantial minority — 11 percent — live in institutions or group homes. In 2017, more than 69,000 children – whose mothers' and fathers' parental rights had been legally terminated – were waiting to be adopted. In 2017, more than 17,000 young people aged out of foster care without permanent families. Research has shown that those who leave care without being linked to forever families have a higher likelihood than youth in the general population to experience homelessness, unemployment and incarceration as adults. While states should work rapidly to find safe permanent homes for kids, on any given day children available for adoption have spent an average of about one and a half years waiting to be adopted since their parental rights were terminated. Ohio has nearly 16,000 children in the custody of county children's services agencies. Gov. Mike DeWine wants to increase the number of foster care families available to meet that need and has a plan to recruit more foster parents.
For more information about child abuse prevention programs and activities go to richlandcountychildrenservices.org. Please call the Richland County Children Services 24-hour child abuse hotline at 419-774-4100 to report child abuse and neglect.
Award Honorees: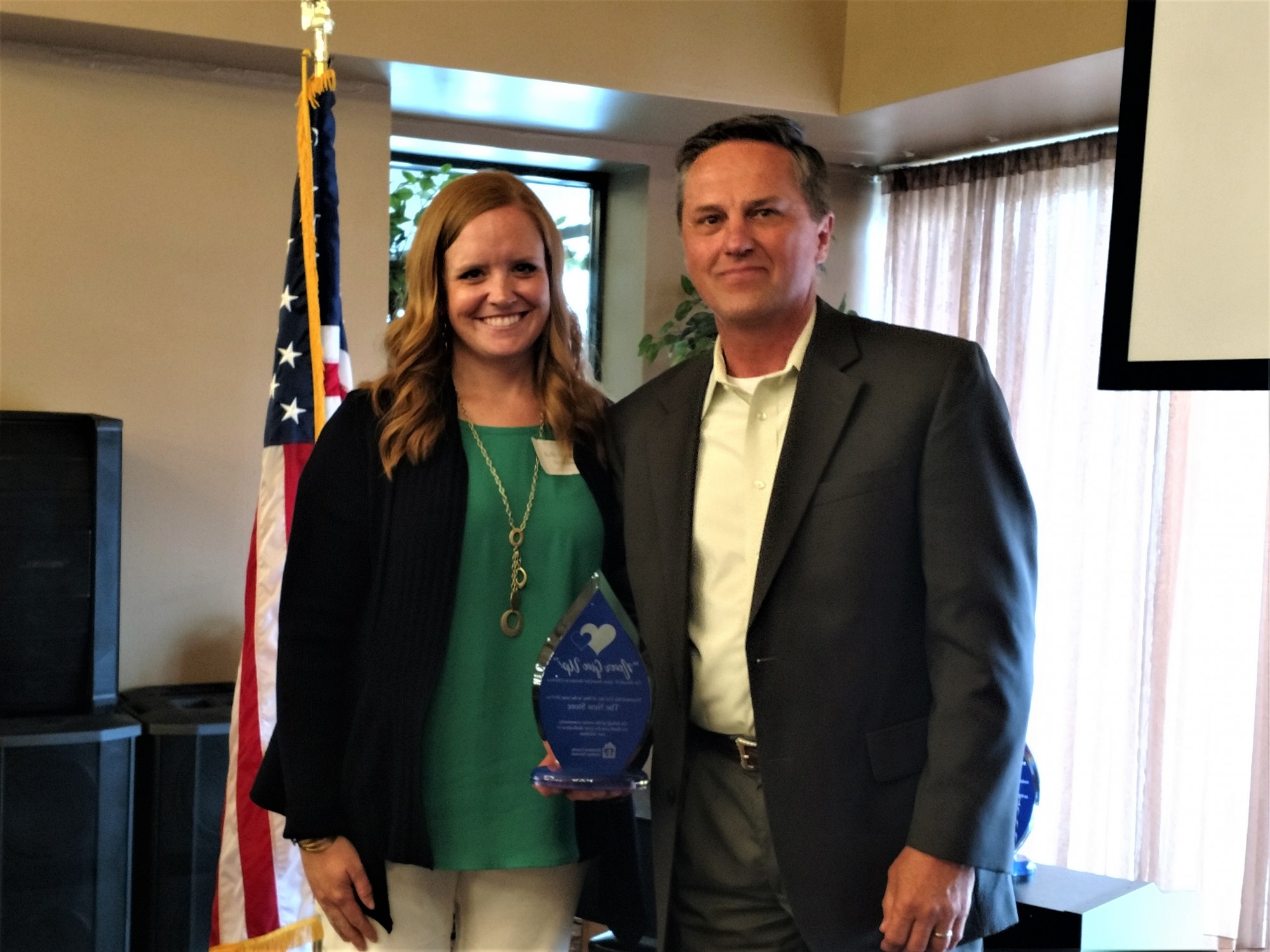 Kelly Andress, The New Store, Asst. Director and Rick Sjostedt, The New Store, Board President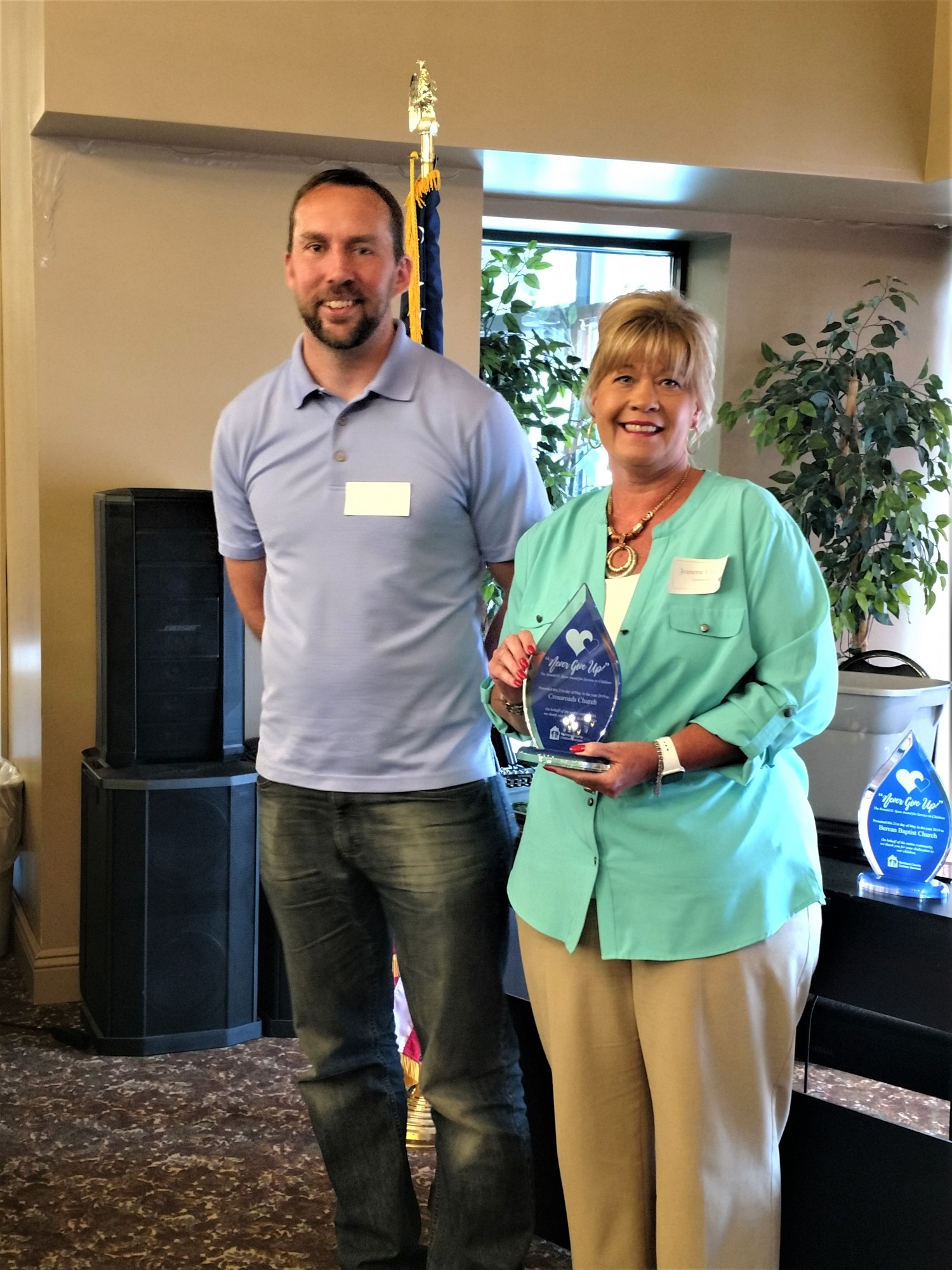 Jesse Rider and Jeanette Chase, Crossroads Community Church – Adopt A Child Project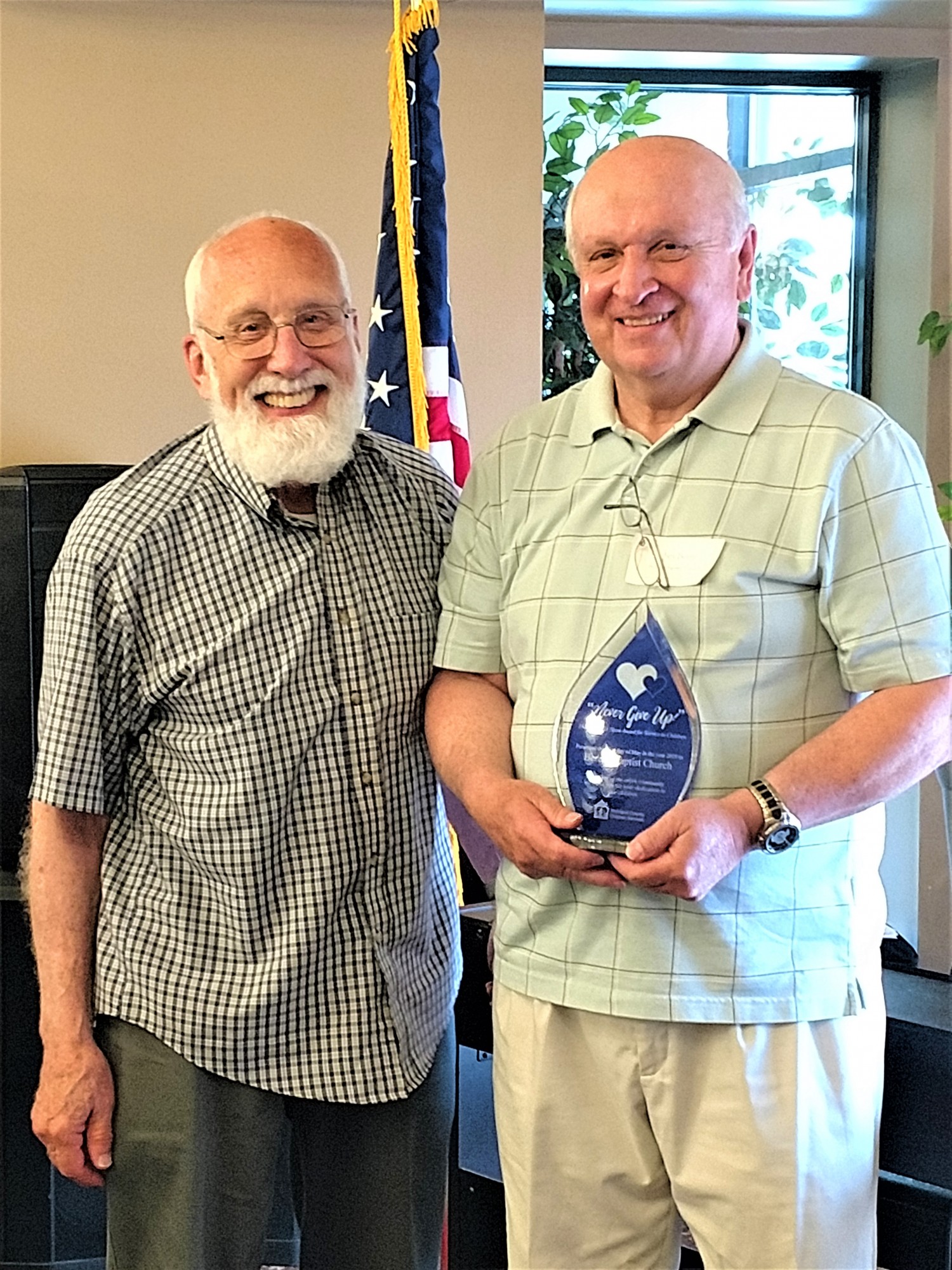 Art Haring and Jim Berry, Berean Baptist Church Men's Club
« Back to News