People Magazine features Loudonville family among 'Grandparents raising grandchildren'
February 4, 2019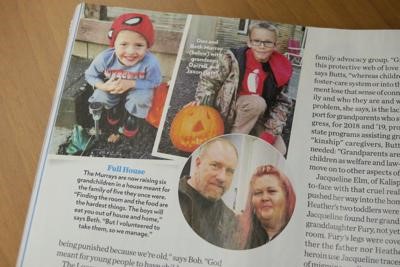 Beth and Don Murray and their grandchildren are among the families featured in the article "Grandparents Raising Grandchildren: How the opioid crisis is changing the American family" in the Jan. 21 issue of People Magazine.

Courtney McNaull, Staff reporter
LOUDONVILLE - Beth Murray thought she knew what being a grandma would be like.
"I thought I'd just be spoiling the grandkids and sending them home," the 50-year-old Loudonville grandmother said.
Instead, Murray has found herself raising six grandchildren after her daughters, 28 year-old Sam and 33-year-old Heather, "lost their motherly instinct" to opiates.
The family lives paycheck to paycheck as they struggle to make ends meet for their family of eight. Beth and her husband, Don, have moved their own bedroom into the basement of their two-bedroom house. They spent money they had been saving for a car on three sets of bunk beds.
"It's probably the hardest thing I've ever done," Murray said. "On the one hand, you're worried about your daughter dying. On the other, I have these kids who need me. I just want to keep my family together."
The Murrays were among six sets of grandparents recently featured in People magazine as the faces of a phenomenon that has swept the nation along with the opioid epidemic. The article is titled, "Grandparents raising grandchildren," and the subtitle reads, "How the opiate crisis is changing the America family."
According to the article, more than 258,000 children in the U.S. are in the foster care system due to alcohol or drug use by parents. Of those, one third are living with relatives, often grandparents.
Murray said she contacted People to share her story after hearing the magazine was looking for grandparents like her.
Ever since she started took in Sam's two children four years ago, Murray has been vocal about the impact drugs have had on her family.
"When it first started, I felt so alone. I couldn't find help," Murray said. "I want to help other people to know they don't have to feel ashamed."
Murray has held awareness and recovery rallies, attended Narcotics Anonymous meetings and spoken to members of local and national media. It's all part of an effort, she says, to build community for families impacted by drug abuse and to reduce the stigma around addiction.
Murray especially hopes she can help families understand the importance of teaching their children to be compassionate.
One of the most heartbreaking moments for Murray happened when Heather's four kids came to live with her in 2017 and ended up switching schools.
A classmate said to one of the kids, "I know why you're here. Your mom's on drugs. She should have died," Murray recalls.
"It's really tough on the kids. They're genuinely hurting," Murray said.
The kids seem to be a little happier these days, and they're doing well in school, Murray said. But mostly, the family just takes things one day at a time.
Murray emphasized she is not alone in her struggle.
"There's a lot of grandparents raising grandkids here in Loudonville," she said. "Not just here. It's everywhere. We need to bring awareness and stick together."
« Back to News