Wild World of Animals coming to the Renaissance Theatre
January 8, 2019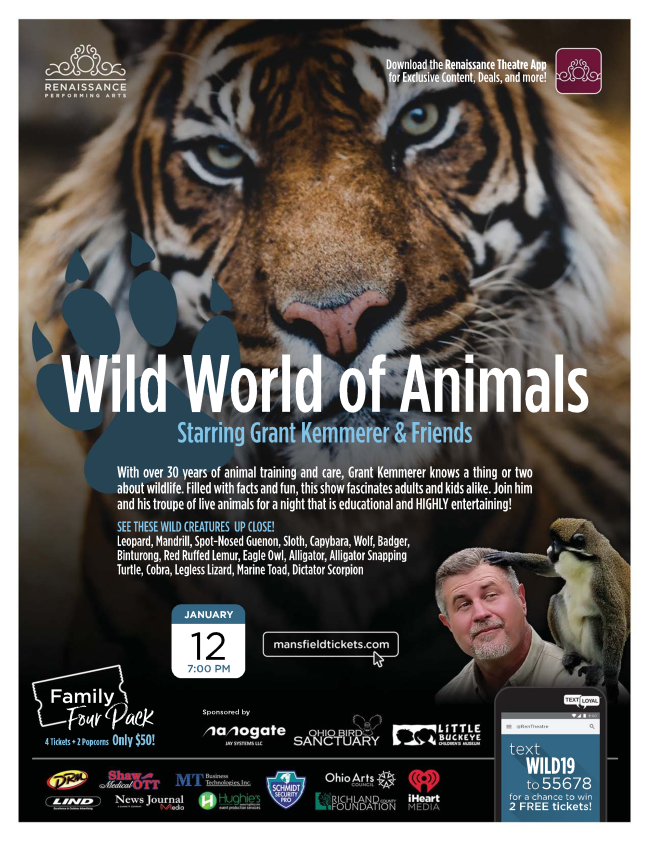 Saturday, January 12, 2019 at 7:00 p.m.
SINGLE TICKETS
Orch/Mezz Price: $28.00
Section A Price: $25.00
Section B Price: $22.00
Section C: $15.00
Box Office: 419.522.2726
Tuesday – Friday, Noon – 5 p.m.
This is the Gold Standard by which all live animal stage shows should be assessed!
With over 30 years of animal training and care, Grant Kemmerer knows a thing or two about wildlife. Filled with facts and fun, this show fascinates adults and kids alike. Join him and his troupe of live animals for a night that is educational and HIGHLY entertaining!
Born in Lancaster, PA and reared in Miami, Grant Kemmerer became an enthusiastic animal advocate early on. Living so close to ocean and Everglades, Grant became a certified scuba diver, and then began guiding tours into the captivating Everglades, introducing people from all over the world to the ecosystem and its monarch, the alligator. After graduating from Florida International University, Kemmerer formed a company specializing in wildlife education and outreach programs.
Grant has performed live animal programs in 37 states for countless people, trained animals for movies and television, and is a guest lecturer for one of the leading eco-tourism companies in the world, often traveling to the Amazon and Galapágos Islands. He has accompanied researchers into the Pantanal in Brazil, and actively raised funds for conservation programs related to jaguars in the Pantanal. Kemmerer currently works with and cares for over 200 animals, is a licensed master falconer, and holds numerous state and federal permits, including permits for endangered and critically endangered species.
Grant has been a guest on Martha Stewart Show, Meredith Vieira Show, Anderson Cooper, CBS Early Show, and Fox and Friends and has worked with Jim Fowler and Jack Hanna. He has supplied animals for such entities as the National Wildlife Federation, National Geographic, Animal Planet, Tonight Show with Jimmy Fallon, Late Show with Stephen Colbert, Late Show with Jimmy Kimmel, Late Show with Seth Meyers, Saturday Night Live, Rachel Ray, Wendy Williams, Maury Povich, Regis and Kelly all the way to Kelly and Ryan, Today Show, Good Morning America, Steve Harvey Show, Tyra Banks, Gale King, Fox and Friends.
« Back to News