Pam Hinton-Groves, Richland County Children Services, Child Protection Support Staff of the Year
September 24, 2018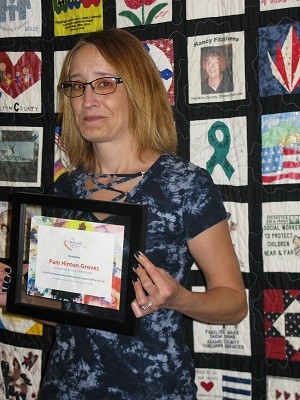 (Pam Hinton - Groves photo by PCSAO )
Columbus, Oh - Richland County Children Services MIS Manager/TPOC, Pam Hinton-Groves was presented the Child Protection Support Staff of the Year award at the 33rd annual conference of the Public Children Services Association of Ohio on September 21, 2018 in Columbus, Oh. The three-day conference, which drew more than 500 child protection professionals from across the state, showcased evidence-based practices and trends in the field.
Technology. Coding. Database management. IT security. Most children services caseworkers will readily admit that these aren't areas of specialty or even comfort for them. That's why every agency should have someone on staff like our next award winner.
With more than 20 years of experience in the field, she is known as a "go to" expert on data and technology within her agency and beyond. While she approaches every problem like a scientist - collecting factual data, forming a hypothesis, testing solutions - she also has a knack for translating complex technical information into something that even the most tech-phobic caseworker can understand.
Hinton-Groves writes code to automate reports, provides both unit-specific and caseworker-specific data trends to make the agency more efficient, and manages all things technical, from agency-wide upgrades to individualized technical assistance when a caseworker gets locked out of her computer (not that that happens very often).
Her vision goes beyond SACWIS and ROM reports. She conceived a plan to develop a forensic interviewing center in the community hospital, coordinating all aspects of a $25,000 project that involved audio, video and recording equipment; hospital and law enforcement coordination with the agency; cabling and installation; and policies and procedures. The praise, commendations and compliments accompanying the nomination for this staff member are too long to list, but the agency director, Patty Harrelson has this to say: "She sees things differently than the rest of us, and she is constantly coming up with new ideas for making things better or more efficient. Not one to be satisfied with the bare minimum, Pam is always learning and growing her skillset in order to provide the highest level of assistance possible."
For these reasons and many more, PCSAO is pleased to recognize Pam Hinton-Groves of Richland County Children Services as the 2018 Outstanding Child Protection Support Staff of the Year.
« Back to News