Richland County Children Services: We are involved in the same communities we serve
Nov. 12, 2013
Richland County Children Services counts on the support from the men and women who live and work in the communities served by the agency. That's why we believe it's important to become involved in and to give back through the many community events in which we participate.
This year has been no different. In the first 8-plus months of 2013, Richland County Children Services has either participated in (or staged) the following community events:
-- Tennis "Rally for Our Kids" in Lexington
-- Black History Month celebration
-- Breakfast with the Easter Bunny
-- Pinwheels for Prevention
-- Wear Blue Day
-- 24-hour Swim/Bike/Run for our Kids
-- Minority Health Fair
-- Foster Parent Appreciation Dinner
-- Miss Ohio Parade in Mansfield
-- Mansfield's Juneteenth Celebration
-- Ontario 4th of July Festival and Parade
-- Shelby Bicycle Days
-- "Fore Our Kids Golf Classic" in Shelby
-- Shiloh Ox Roast Parade
-- Richland County Fair
-- Lexington Blueberry Festival and Parade
-- Bellville Street Fair
The agency will also partuicipate in the Mansfield Halloween Parade on Oct. 29, the Mansfield Holiday Parade on Nov. 16 and our annual Foster Family Christmas Party, date TBA.
==================================================================
RCCS dedicates playground to long-time foster parents
Richland County Children Services has dedicated its playground to long-time Richland County foster parents, Genevieve Hatheway, and her late husband, Elnathan Stewart "Pat" Hatheway The Hatheways cared for local children in need for more than three decades.

A plaque in their honor was unveiled by RCCS Executive Director Patty Harrelson during the agency's first ever community picnic with about 150 adults and children in attendance.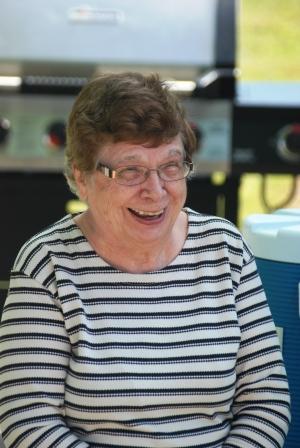 (Click here to see a photo gallery from the event.)

Genevieve Hatheway and her husband, who were married for 64 years, became foster parents on Dec. 31, 1978, and have the longest service record of any foster parents in the county. Mrs. Hatheway was honored in May for 35 years of foster parent service to the community.

At the time of Mr. Hatheway's death on Dec. 28, 2010, they had cared for 45 foster children and also welcomed numerous respite and direct parental placements. They have accepted children ages 1 to 18 and excelled at fostering teenagers, according to Lori Feeney, placement program supervisor for the child protective services agency. Mrs. Hatheway continued to accept children in need even after her husband's death, finishing with 49 children.

Mrs. Hatheway said foster children always had an open invitation to return to visit the Hatheway home after their time there had ended.

"We just had one rule … they needed to keep their nose clean," she said.

In January of 2012, she and her late husband were honored by Richland County Juvenile Court Judge Ron Spon with a "Love Never Fails" community recognition award.

The "Love Never Fails" award was created by Judge Spon in 2000 in memory of Bernice Murphy. The judge awards it to recognize individuals in Richland County who exemplify Mrs. Murphy's character and never-give-up attitude toward struggling children. Mrs. Murphy was the first recipient of the award.
===========================================================================
=============================================================
Click here to view a photo gallery from the 2013 Foster Parent Appreciation Dinner.
Check out the 2013 Pinwheels for Prevention planting effort.
Check out the 2012 Mansfield Holiday Parade photo gallery.
Check out the 2012 Mansfield Halloween Parade photo gallery.
Check out the 2012 5K Run/Walk for Safe Kids photo gallery.
Check out the 2012 Pre-Game Pasta Dinner themed baskets for auction in a new photo gallery.
Check out the 2012 Richland County Fair photo gallery.