Lexington third-grade student wins Richland County Children Services billboard contest
May 19-23, 2014
LEXINGTON – Madelyn Haring loves to play outside with her family, especially with her older brother and younger sister. So when the 9-year-old was asked to draw a picture of a place she feels safe, she naturally created that family fun scene.
That picture, selected as the winner in a Richland County Children Services billboard contest, earned Madelyn a surprise pizza party for she and her third-grade classmates at Central Elementary School on Monday.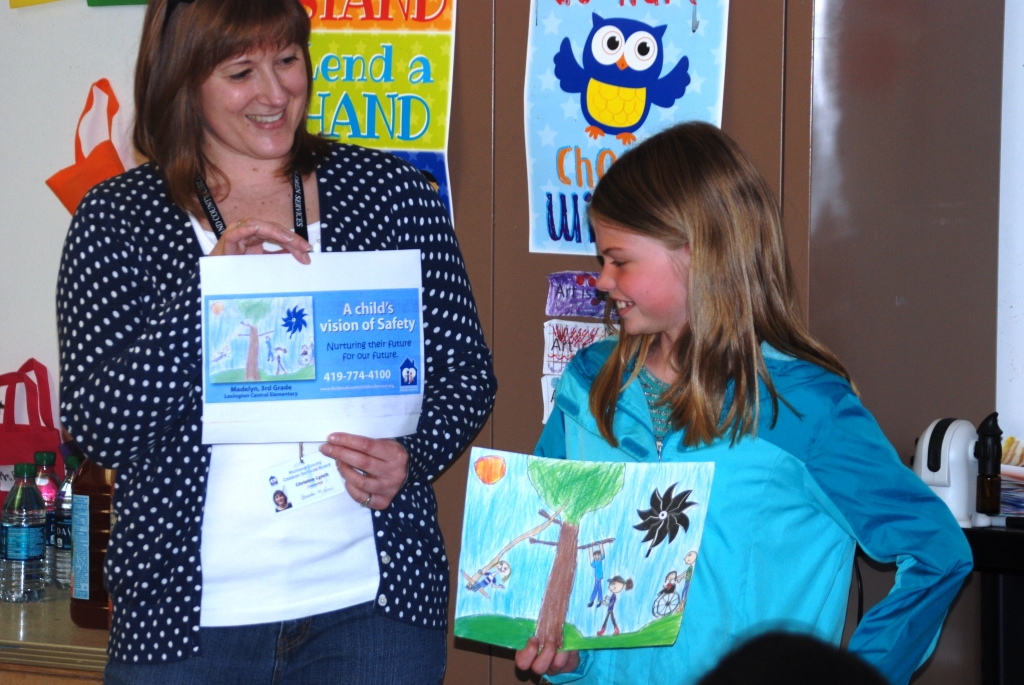 The public child welfare agency invited every third-grade class in Richland County to participate in the annual Child Abuse Prevention Month contest, with the winning image going on six billboards around the area during May.
Madelyn smiled widely when she walked into her art class Monday to find boxes of pizza – and her parents, grandparents and older brother, Micah, 13, all waiting for her. Her family was notified in advance Madelyn had won – and they agreed to keep the secret.
"I was very surprised, especially when I saw my family here," she said. "It was awesome seeing them come here to see this."
The soft-spoken youngster, who said art was her favorite class, was thinking of her family when she drew her winning picture.
"I was thinking how much fun we have when we are all together," Madelyn said. "We love to hang around together outside."
The picture includes a bright sun, tall tree and children playing around it, as well as a child in a wheelchair. "My little sister, Megan (age 7), is in a wheelchair. She is a big part of our family, so she had to be in it," Madelyn said.
Her mother, Heather, said Madelyn's artistic ability comes her father, Kevin Haring, an industrial design artist. "She loves to draw," her mother said.
Her proud brother hugged his little sister warmly when she arrived. "I was amazed (to hear she had won) because I didn't even know she entered a contest. She is good at drawing, though," Micah said.
In addition to the pizza party, Madelyn received a $25 gift card to Target. Her picture, along with 11 other entries, will be included in a special school-year calendar Richland County Children Services is designing. It will be distributed beginning in August.
The event was attended by RCCS Executive Director Patty Harrelson along with several other staff members, including caseworker Christine Lynch, who spearheaded the contest and made the presentation to Madelyn.
====================================================================
143 participants log 687 miles during annual 24-hour Swim/Bike/Run event
There were 143 participants in this year's 24-hour Swim/Bike/Run event at the Mansfield Area Y, including employees, their family members and volunteers. Participants generated 687 miles during the event, from Friday at 4 p.m. to Saturday at 4 p.m., including 389.5 miles running/walking, 275.5 miles biking and 22 miles swimming. RCCS thanks its friends at the Mansfield Area Y for again allowing the usage of their great facility for the event. Click here to view a photo gallery from the event
============================================================================
Agency annual report now available here online
Richland County Children Services has posted its 2013 annual report on its Web site.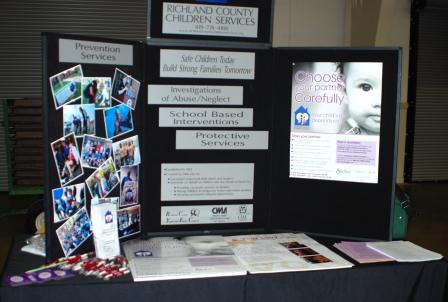 The report details agency activities during the past year, as well as financial information and plans for the future. You can view the 10-page annual report by clicking the link below.
2013 Richland County Children Services Annual Report to the Community
=================================================================
Shelby woman added to Richland County Children Services Board
The Richland County Children Services Board has appointed Shelby resident Lynn Friebel to the nine-member Richland County Children Services Board.
The board meets in regular monthly session on the second Monday of each month at 4:30 p.m. in the board meeting room at the 731 Scholl Road agency.
Board officers this year are Pamela Siegenthaler, chair; David Leitenberger, vice chair; Robert Kirkendall, treasurer; and James Kulig, secretary. Other board members are Dr. Michelle Kowalski, Renee Bessick, Deanna West-Torrence and Jason Murray.
=============================================================
Click here to see all of the Richland County Children Service photo galleries.
Click here to visit the Richland County Children Services Facebook page.