Kingwood Kids Day
July 17, 2019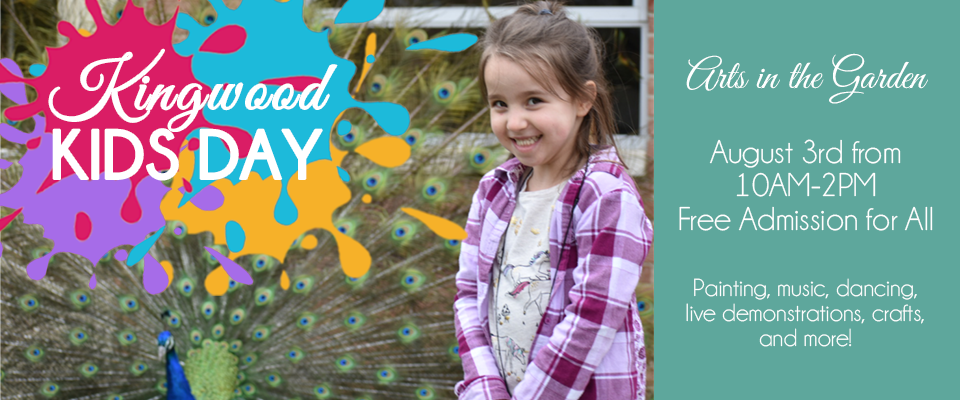 Visit Kingwood Center Gardens for an exciting day of learning all about the ARTS! on August 3rd from 10AM-2PM for Kingwood Kids Day: Arts in the Garden! Admission is FREE for all!
This year Kingwood is joined by several community partners, including Little Buckeye Children's Museum, The Renaissance Theater, Mansfield Richland County Public Library, STARTEK, Metronome Music, Ohio Bird Sanctuary, Black Belt Pro Fitness, the Mansfield Art Center, Olivewood Dance Instruction, Cleveland Clinic Cancer Center, Directions Credit Union, and Western & Southern! Each community partner will have an art project, demonstration, or activity for children to enjoy!
Souvenir bags will be handed out at the entrance. Supplies are limited to the first 500 children.
Food will be available to purchase from Buehler's food truck, Ferris. Ice cream will be available to purchase from Paul's Drive In. Culligan Water will provide bottled water for children.
Entry and Parking
Entrance to the event will be located at the Linden Road Entrance. Visitors are encouraged to park on Linden Road, at Mansfield Senior High School, at the former Pizza Hut lot located at 856 Park Avenue West, or at the former Spitzer lot located at 744 Park Avenue West. A shuttle will be provided for guests who park in the former Spitzer Lot.
« Back to News